Creative content gets your customers talking about you and sharing you with their friends, whether they mean to or not. When your customers respond to your creative content, they share the message about your brand to their friends because their friends can see what they're talking about.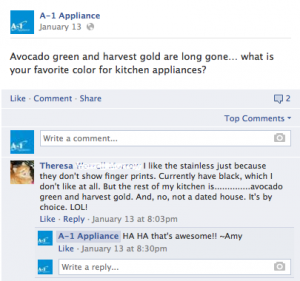 However, your customers' news feeds are saturated with a variety of messages. So how do you make your content stand out among the noise? How can you create a buzz about YOUR business and attract new customers through social media?
Ask interesting questions to encourage customers to engage with you.
When customers answer your questions, you get to respond back and keep the conversation going.
Give your business a personality on social media.
For example, A-1 Appliance's Amy on Facebook shares kitchen/cleaning tips, recipes, and local events. In addition to sharing about sales and deals at A-1, she asks questions about current events to encourage customers to respond.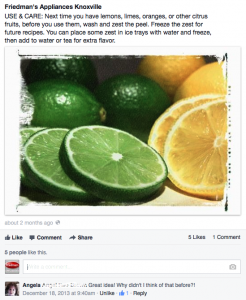 Create a relationship with people.
It's not always about pitching your service or product. Share content that doesn't have anything to do with your services or products, but that you think your followers would be interested in.
Promote local events and stay relevant with holiday-related posts and community happenings.
One way to do this is to mention the weather: "It's cold outside. Warm up on the inside with a bowl of soup at Merridee's."
Interact with people in a personal way.
When it's more personal than corporate, it makes them feel connected to your brand.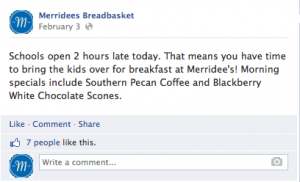 Be funny.
When it's relevant, adding a humorous voice can connect and resonate with your audience.
Creative online content drives engagement, which increases exposure in social media and leads to new customers and increased sales. We know that creating this content is a big job and needs a dedicated person to manage it. Let Riley & You help you manage social media for your business.