Growing Your
High-End Business
Solutions for Local Premium & Luxury Appliance Dealers
High-End Digital
Reach your high-end audience online with Paid Search or Paid Social Media Campaigns showcasing premium and luxury brands.
Dealer Branding
Whether you need a brand refresh, or something completely new, we can design a logo that will set the stage for your future.
Lifestyle Communications
High-end buyers have different expectations, and your blog posts and social media posts need to speak their language.
High-End Digital Advertising
We specialize in creating digital advertising campaigns that target your high-end audience with a lifestyle message that resonates. We have experience with most major premium and luxury brands, and we understand how your co-op process works. Your campaign data is always available via your exclusive Dealer Dashboard, with easy-to-download reports built with your co-op reporting needs in mind.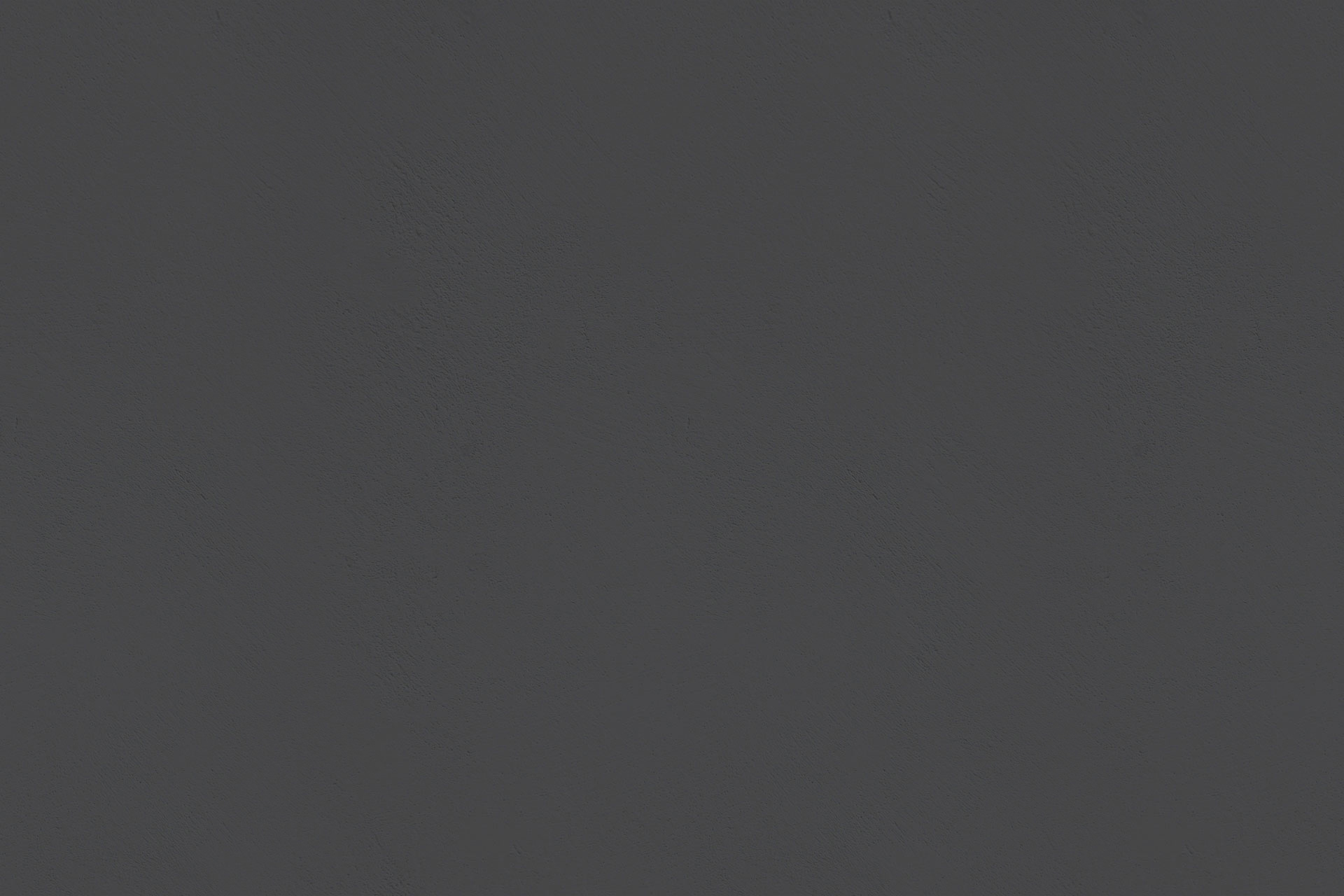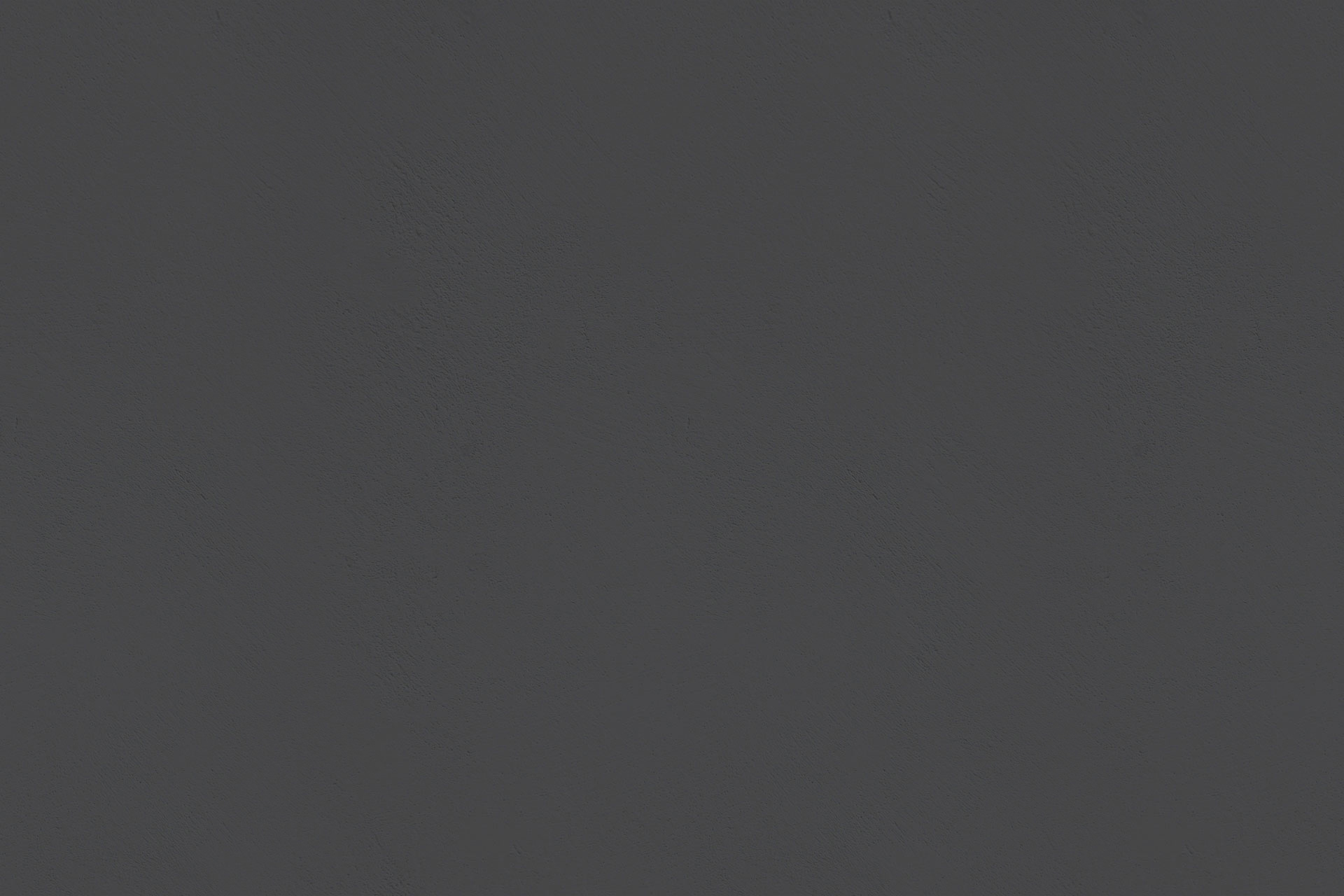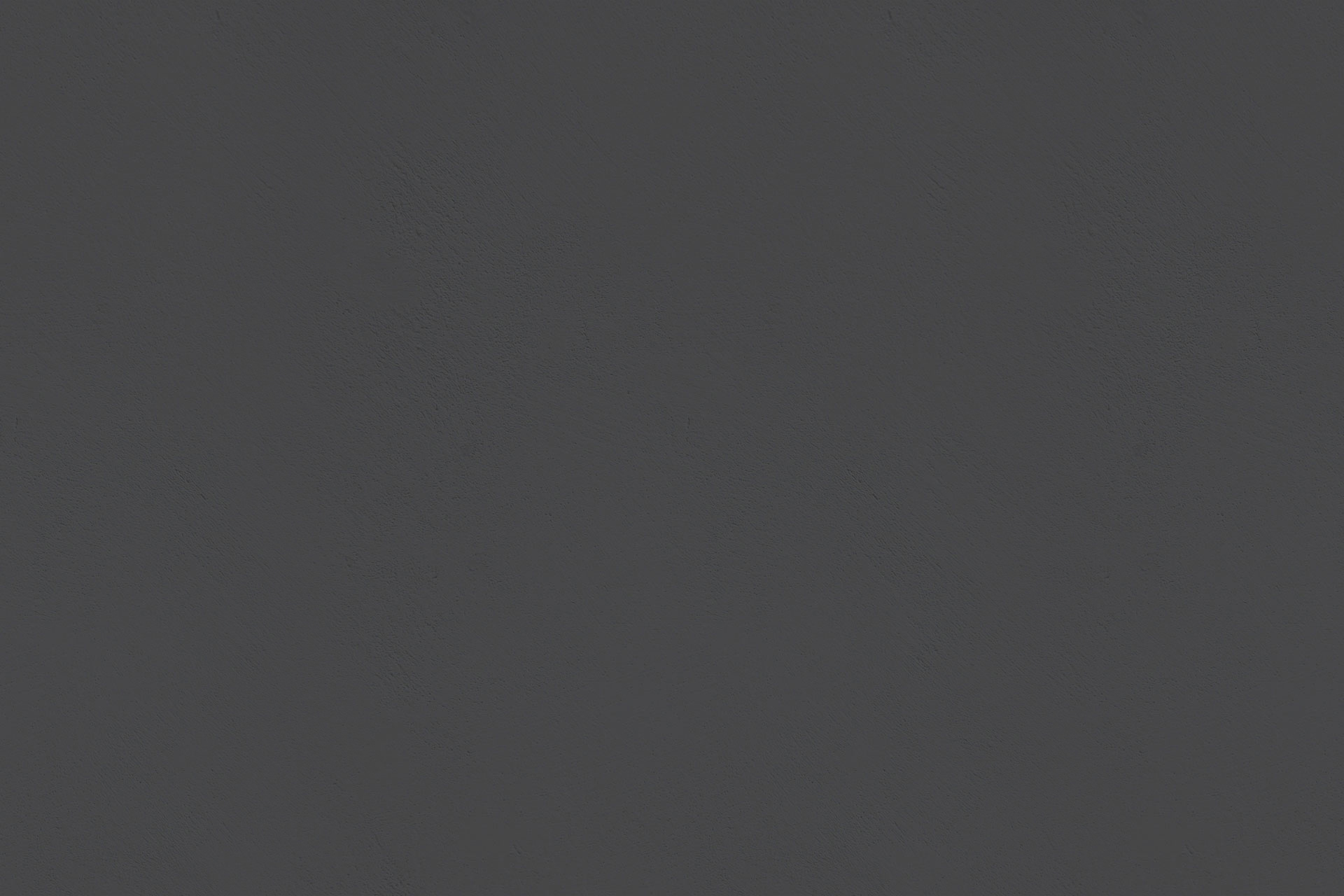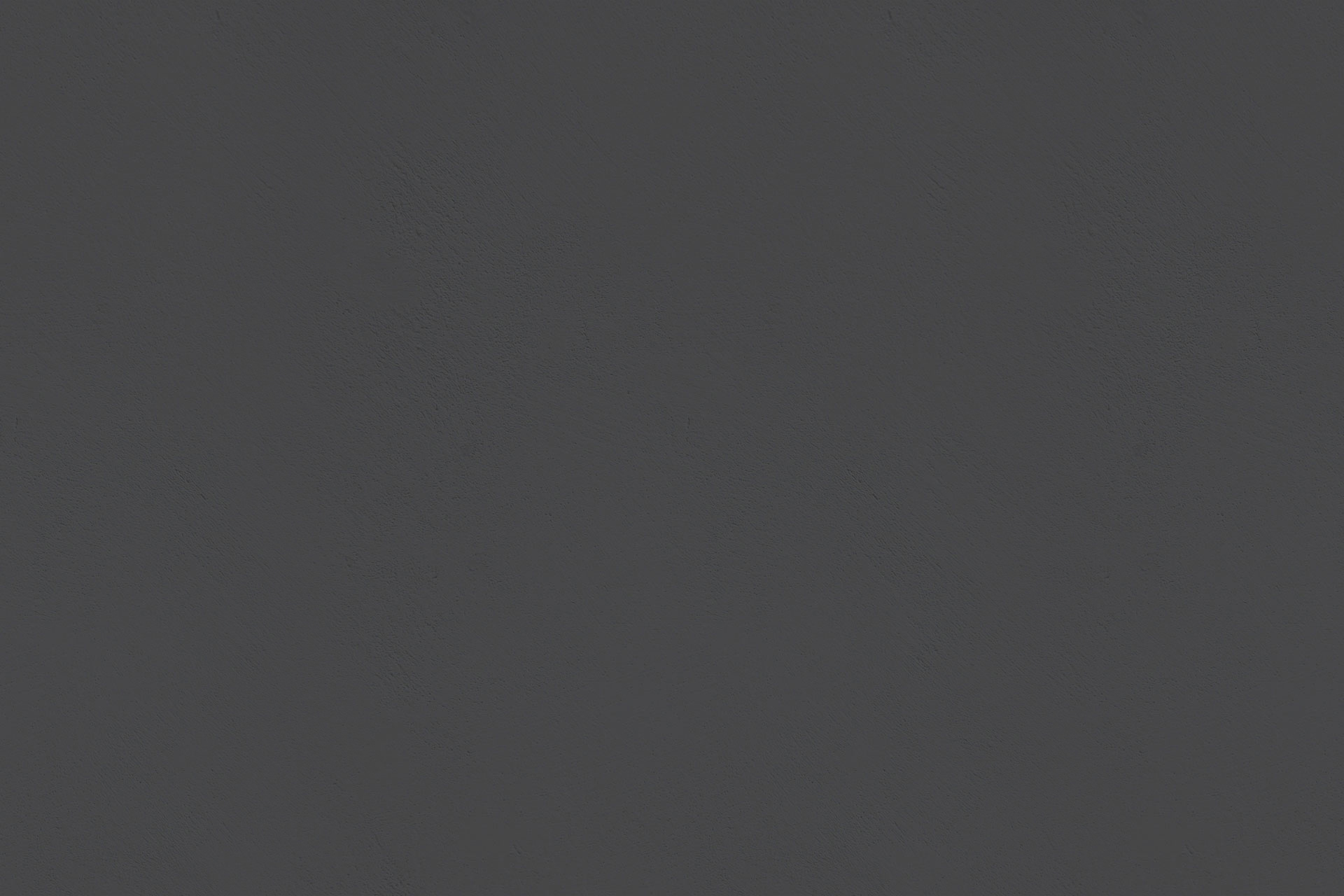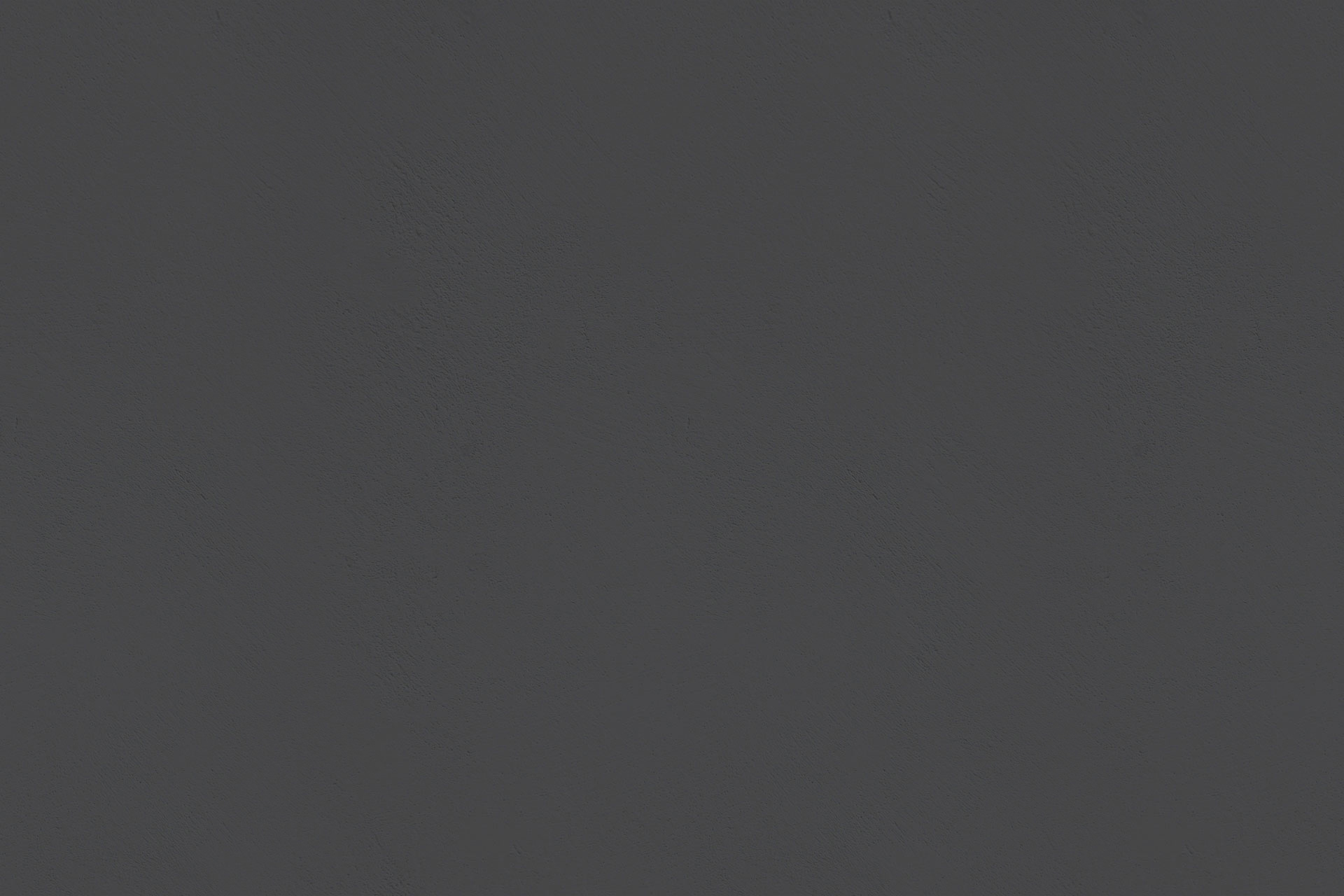 Dacor
Dacor Online Advertising
We worked directly with Dacor's national marketing team to create a fully customized premium digital campaign designed to position local dealers for growth.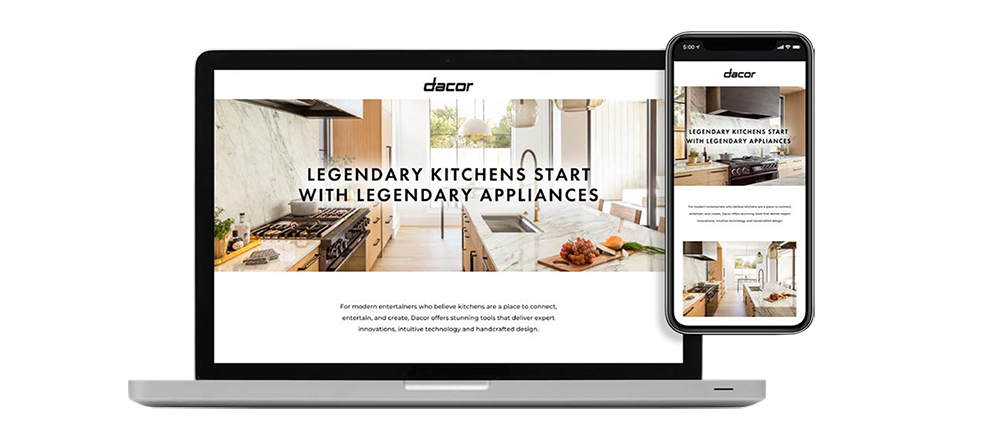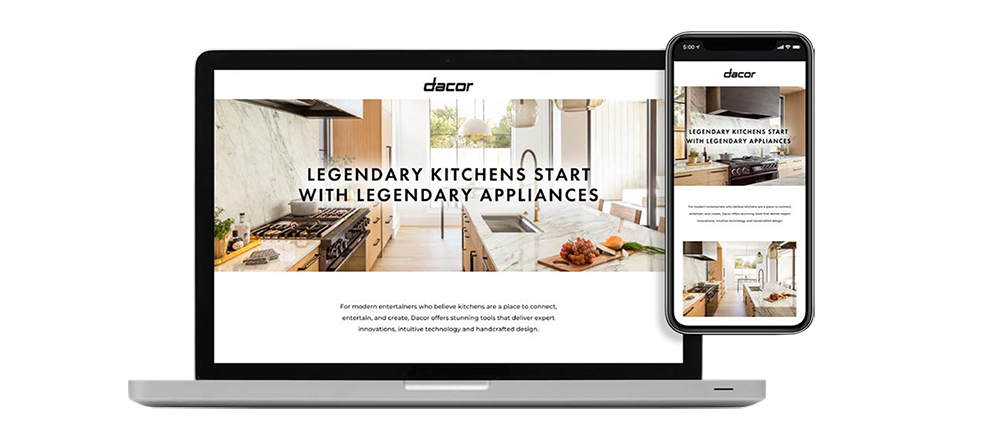 ADU - SZ Campaign
ADU's Sub-Zero, Wolf, and Cove Instagram Campaign
Designed to inspire an audience of luxury homeowners and trade professionals, our Sub-Zero, Wolf, and Cove Instagram campaign for ADU offers stunning product imagery in a story carousel format. Combining high-quality visuals with expertly designed landing pages, this campaign is just one of our many successful paid social campaigns for premium and luxury appliance dealers.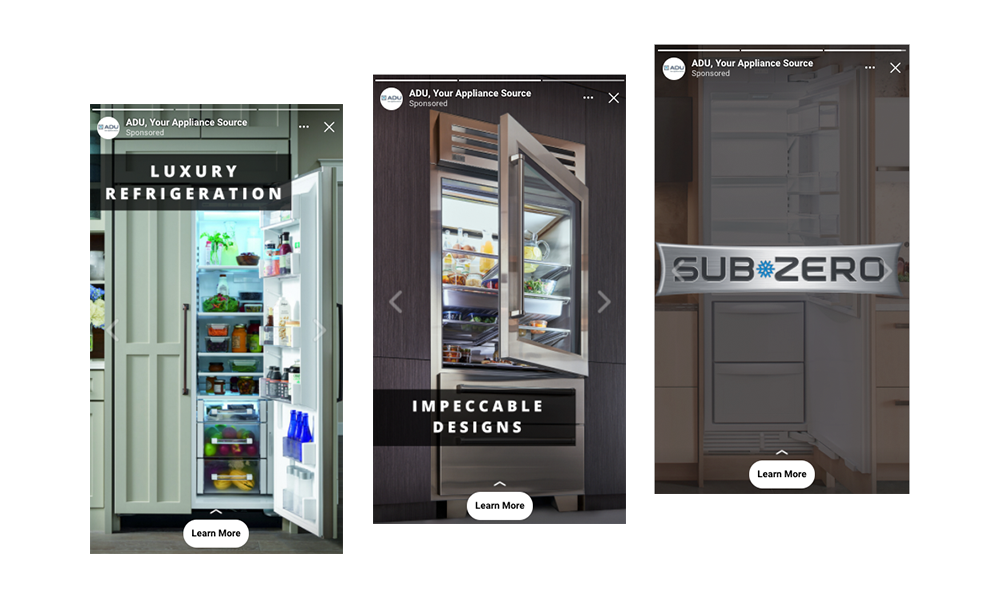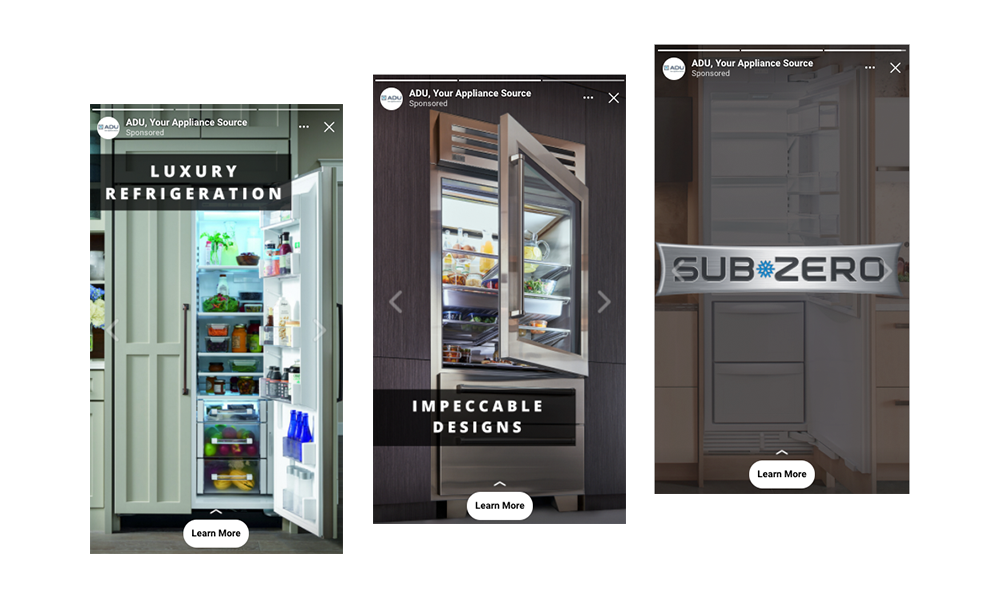 Friedman's Frigidaire Pro
Frigidaire Pro Paid Social Campaign for Friedman's Appliances
Our Frigidaire Pro campaign for Friedman's Appliances allowed us to combine our expertise in content writing, social media, and paid advertising. Utilizing educational articles and recipes, our team created multiple ad sets tailored to both Facebook and Instagram to promote the Frigidaire Professional collection.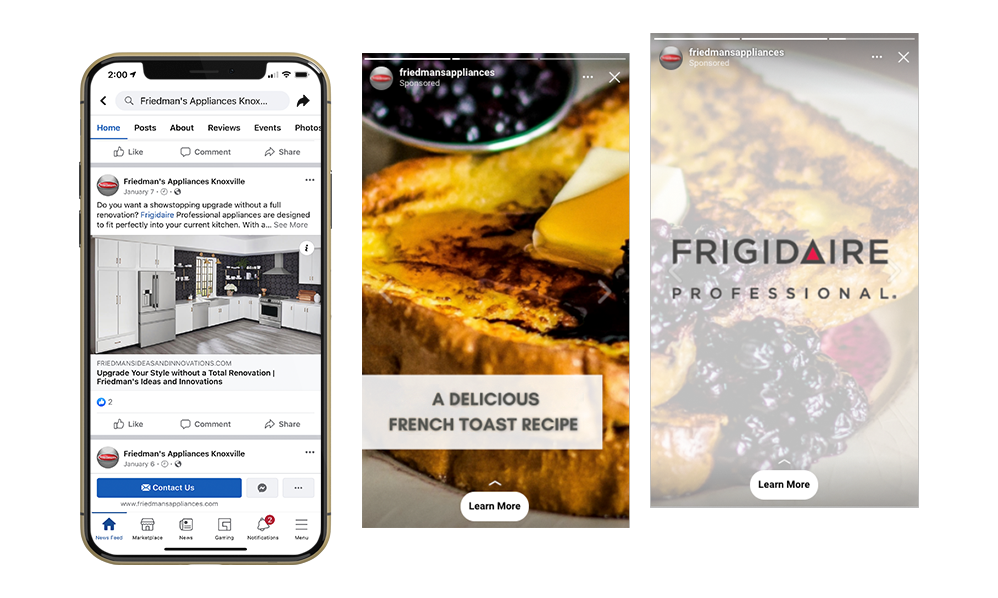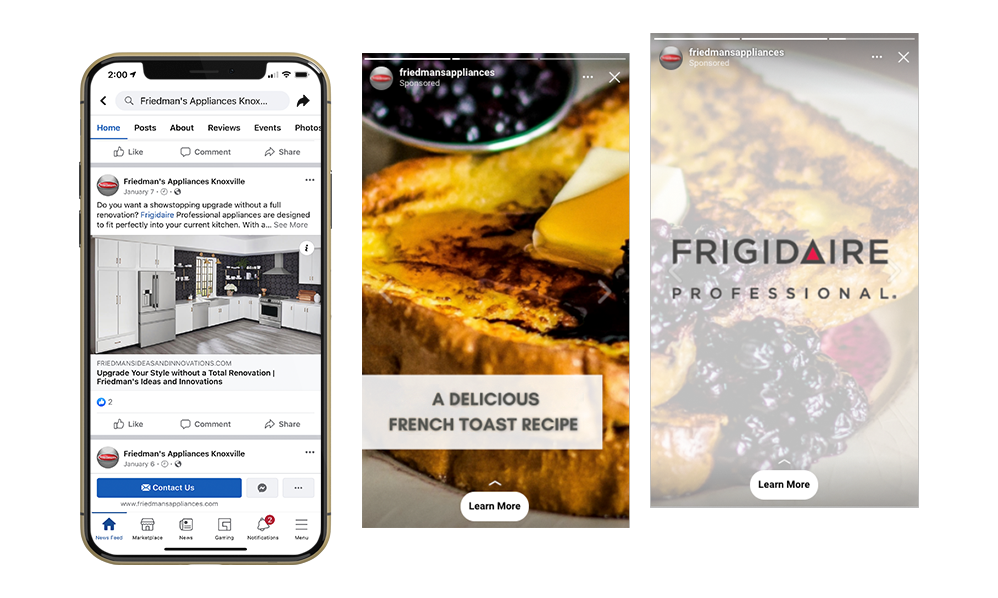 ADU Monogram Display
Monogram Google Display Campaign For ADU
The Google Display Network is a great way to increase Brand Awareness for dealers and manufacturers with their high-end audience. With stunning imagery and an array of state-of-the-art features, Monogram Appliances is an ideal brand to showcase on this channel.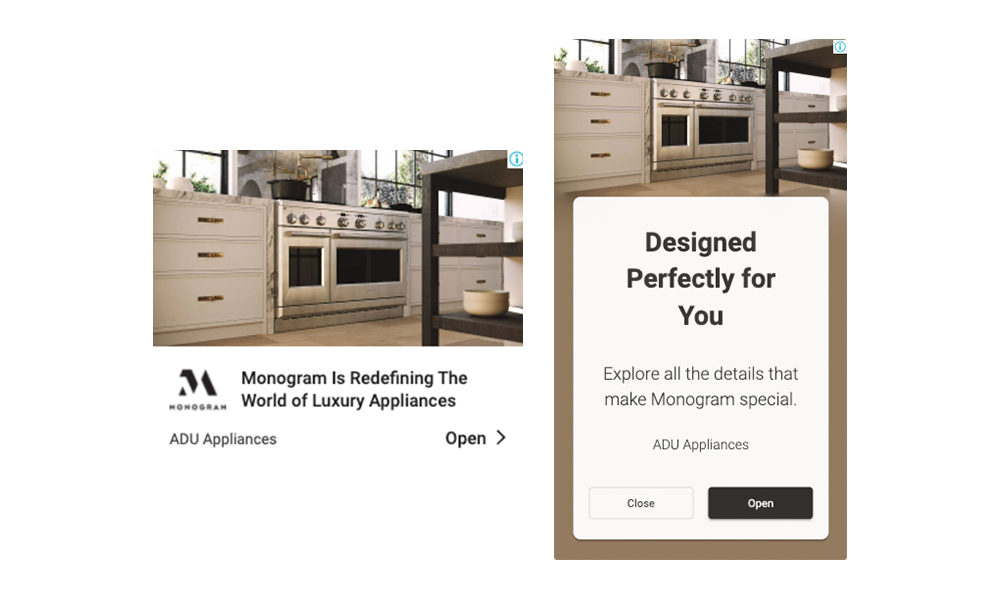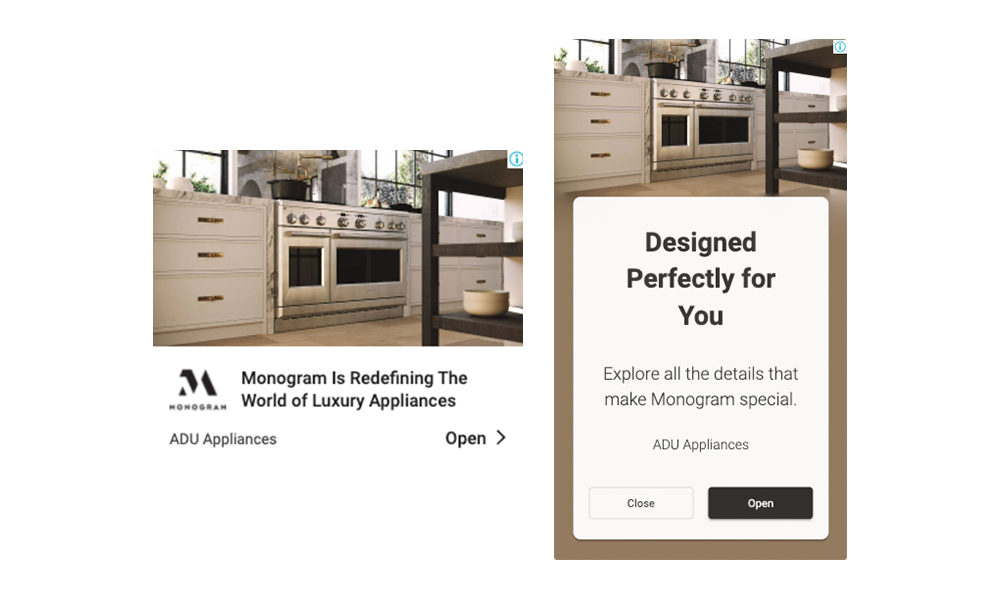 Appliance Gallery Thermador FB
Thermador Facebook Ads For Appliance Gallery
The luxury appliance audience expects a high level of expertise from dealers, so we created a Paid Social Media Campaign specifically designed to educate and inspire this audience. Using original articles and unique recipes, our Facebook campaign positions Appliance Gallery as their area's premier source for Thermador appliances.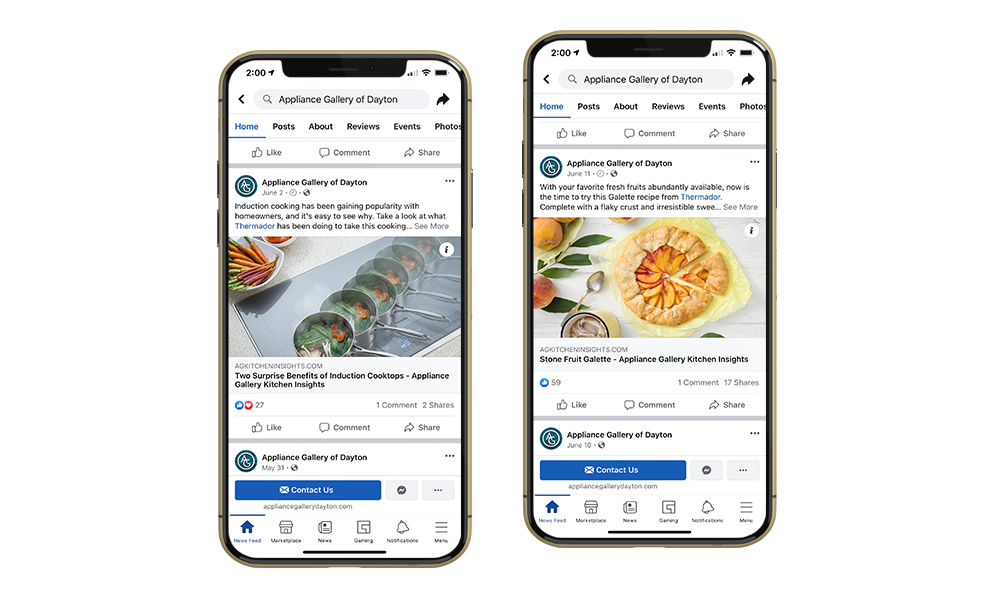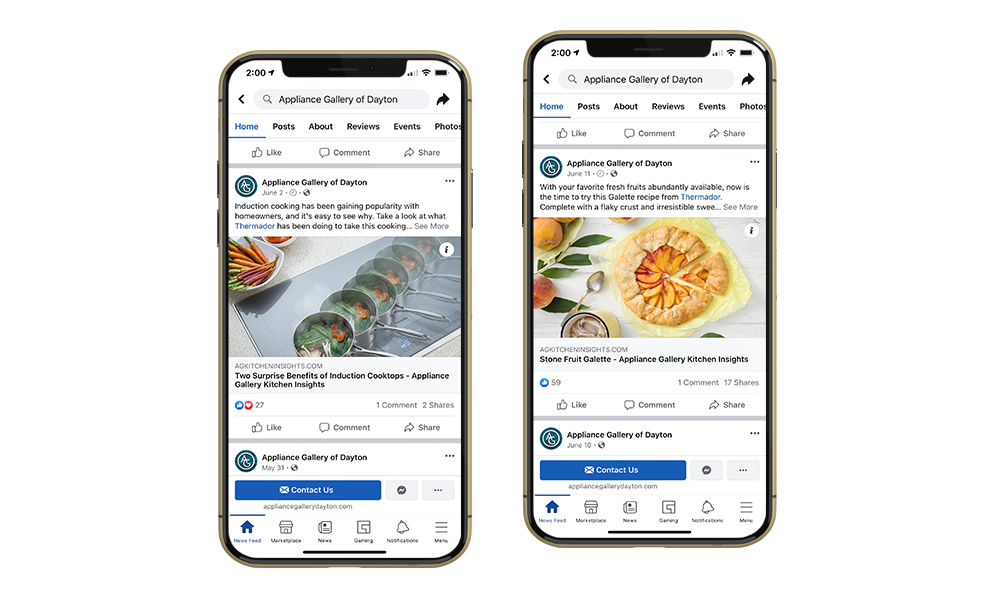 Your brand is who you are. But is it who you want to be? We've helped dealers just like you refresh their brand or develop a brand new one that will carry them through the next generation of their business. Our brand process is about more than your logo. We'll help you clarify your brand identity, your voice, and how your brand impacts the customer experience.
Bob Bailey
Bob Bailey's Appliance Co. Logo
Family-owned for three generations, Bob Bailey's Appliance Co. offers a unique dedication to customer experience and quality, and our rebranding strategy aimed to reflect that spirit. Through intricate research and design, we developed a new logo that portrays their care and commitment to the neighborhood and brings new life to their visual assets.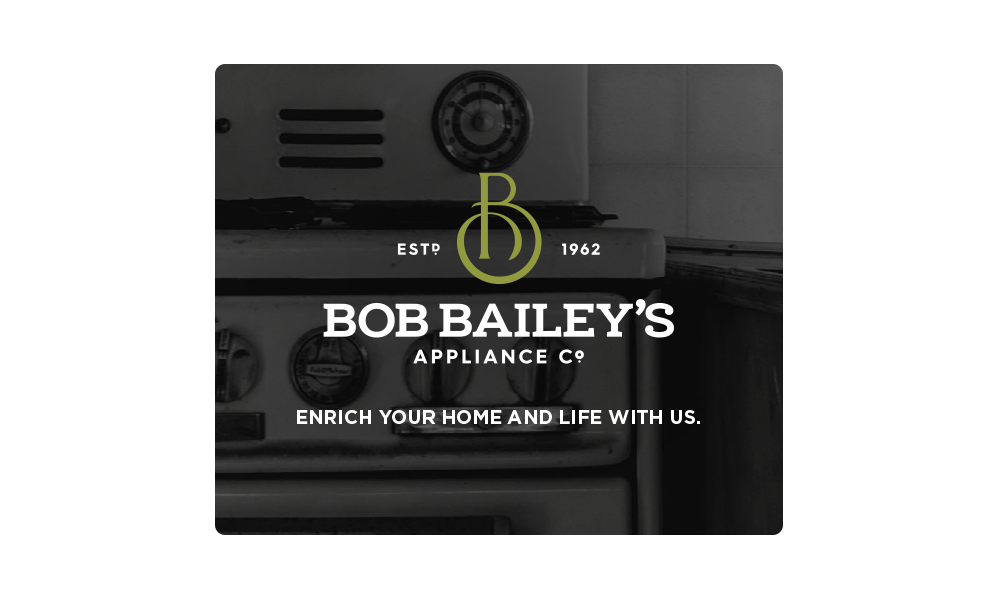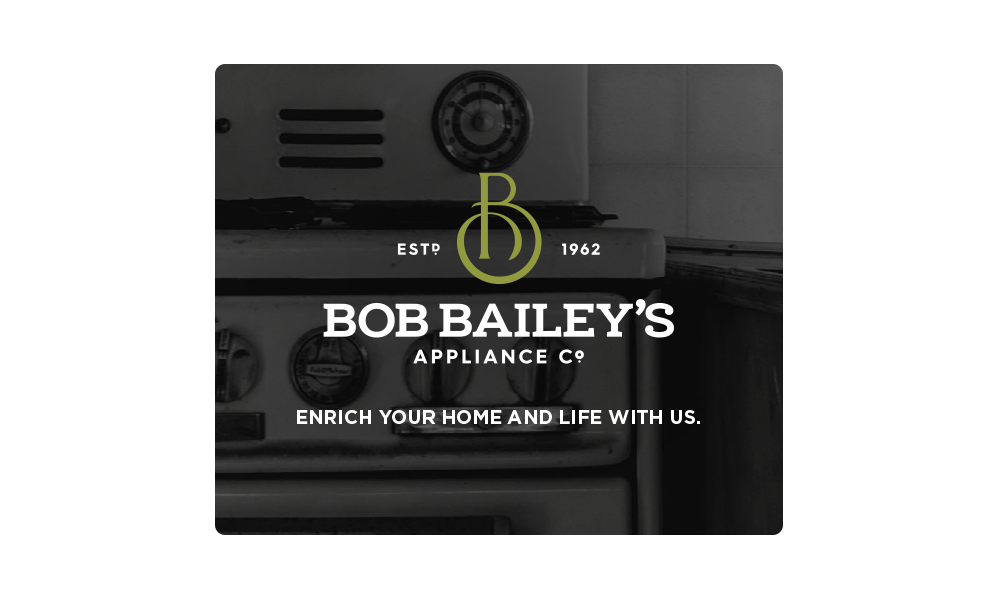 Hagedorn's Appliances Showroom
Hagedorn's Appliances Showroom
An established local appliance dealer approached Riley & You about developing a complete redesign of their showroom. We worked closely with a 3D Rendering expert to create a visual presentation of the new layout, which helped guide the transformation of the showroom. In addition, our team created showroom signage to enhance the customer experience and reflect the brand's history in their community.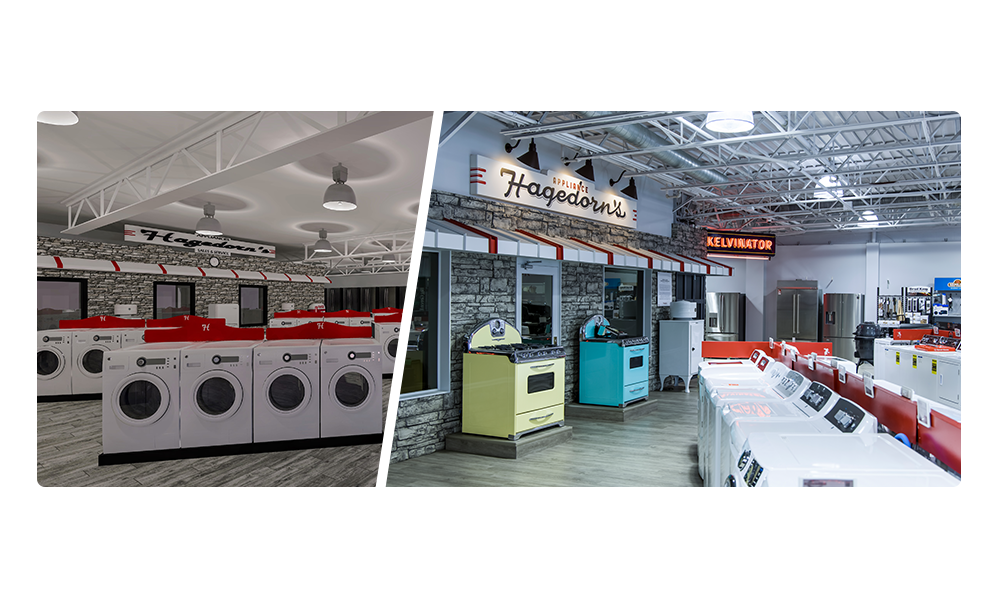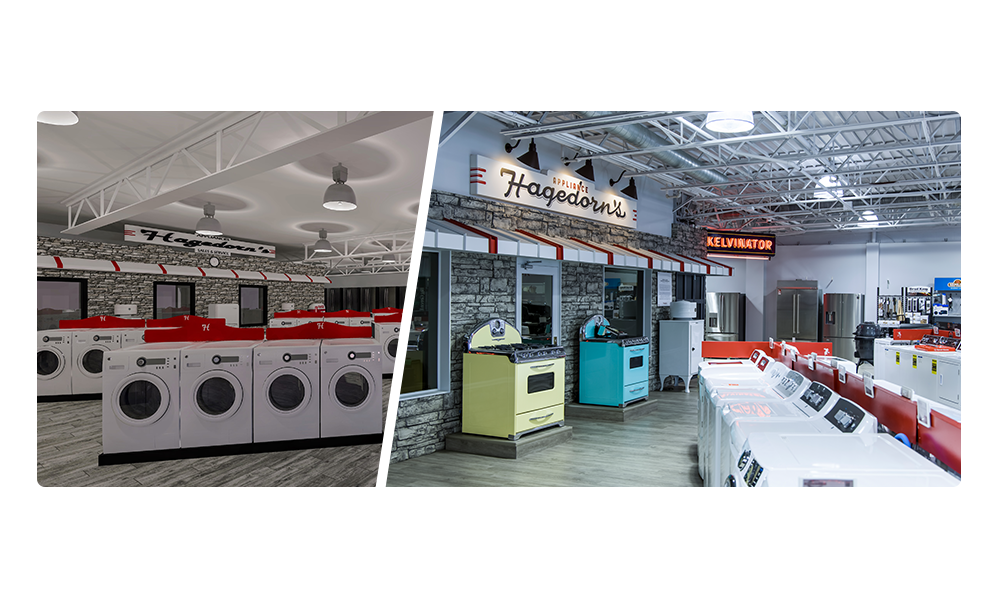 Distinctive Appliances Website
Distinctive Appliances Website
This brand new website was developed for an Atlanta-area dealer. The site – and the new branding it showcases – was crafted to reflect their status as a boutique luxury appliance dealer. Featuring bold, beautiful imagery, the site is targeted at an audience shopping for a lifestyle, and not just a product.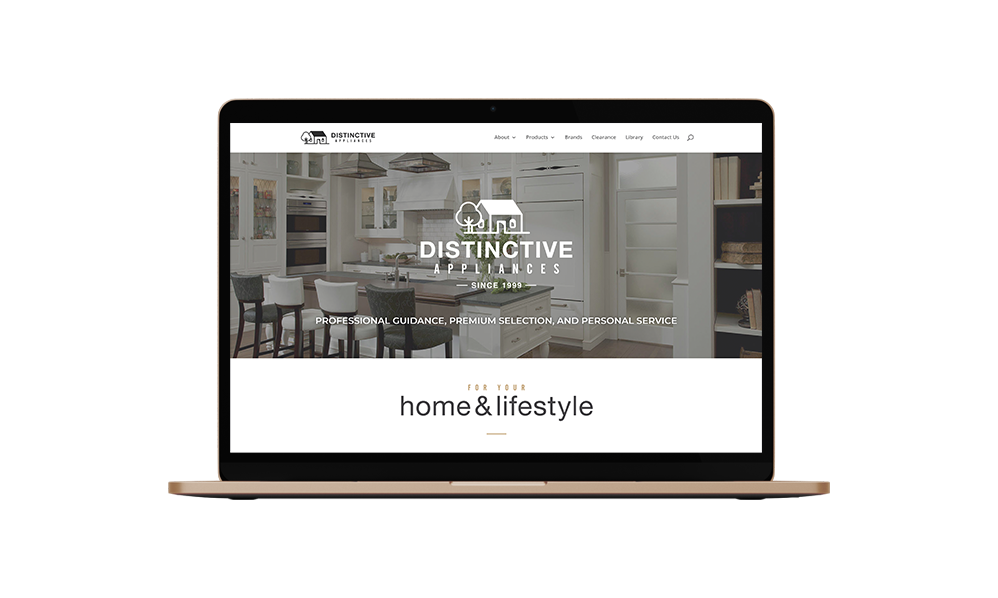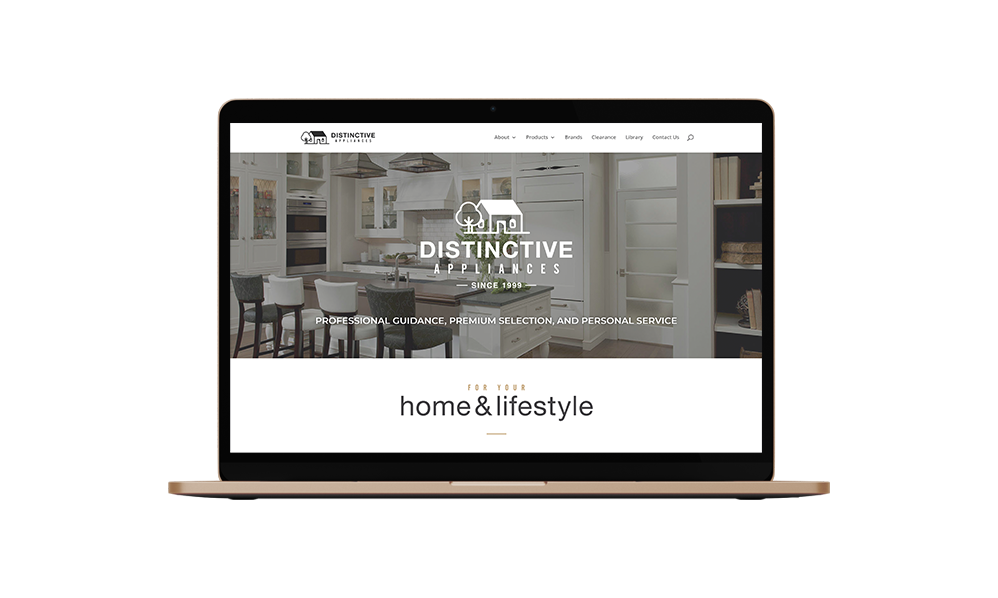 Hagedorn Brand Style
New Logo And Style Guide For Hagedorn's Appliances
A long-time local business dedicated to exceptional customer experience, Hagedorn's Appliances was seeking fresh branding that honored its history while embracing the future. We designed a custom logo to appeal to their high-end audience and crafted a comprehensive style guide to ensure effective and consistent branding across all channels.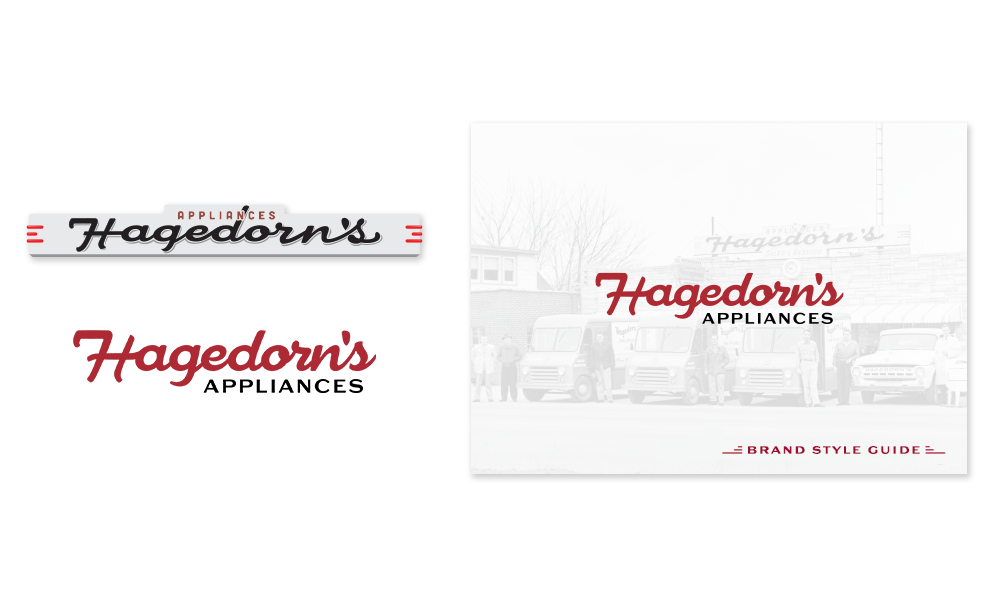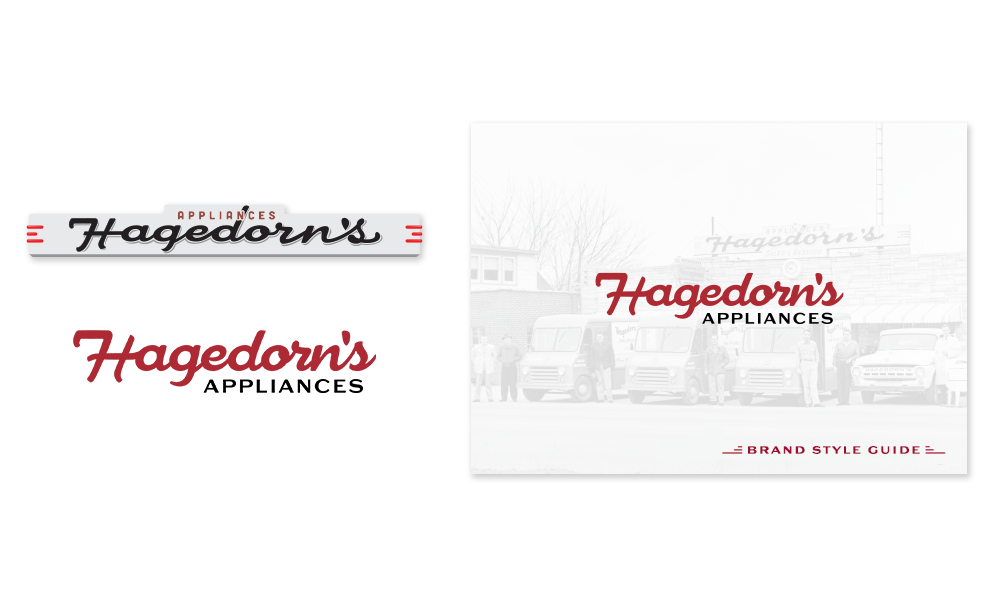 Appliance Gallery Case Study
Brand Refresh For Appliance Gallery
Our work with Appliance Gallery began with building a complete company strategy from scratch that included updating their branding. Through implementing key changes such as a revised logo, a refreshed website, and showroom update recommendations, we established a new branding style to help enhance the experience of their high-end audience.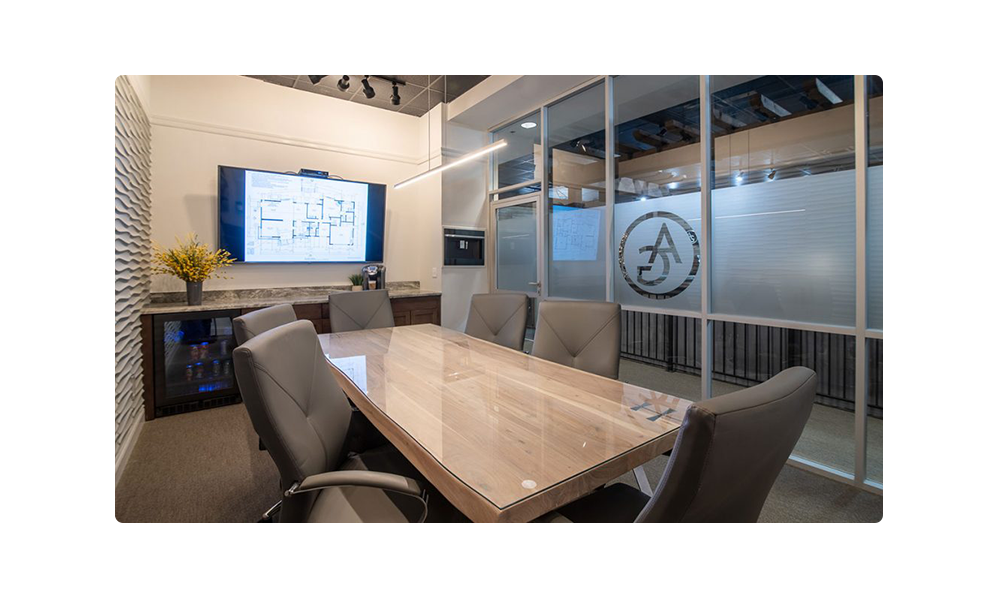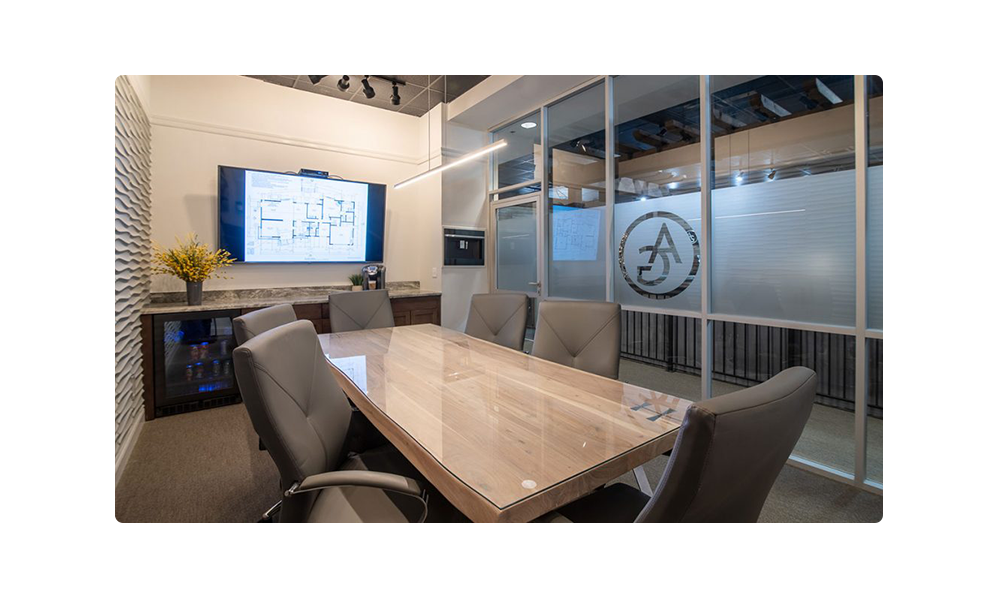 Quality content is the common thread that runs through successful email and print marketing, must-read blog posts, and engaging social media. Connecting with a high-end audience requires content that is written specifically for them. Our team of content writers and strategists specialize in reaching premium and luxury buyers with messages that speak to their lifestyle.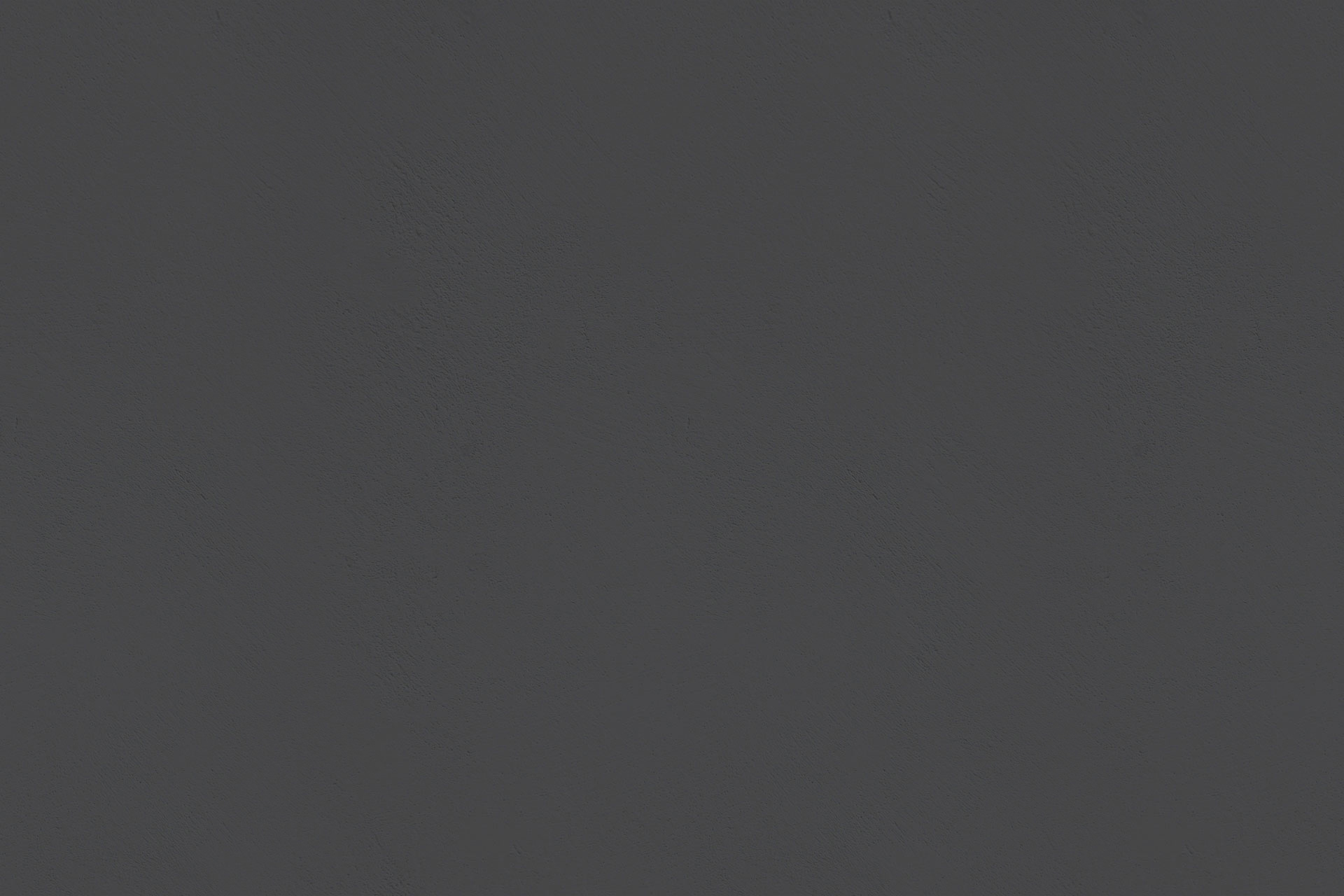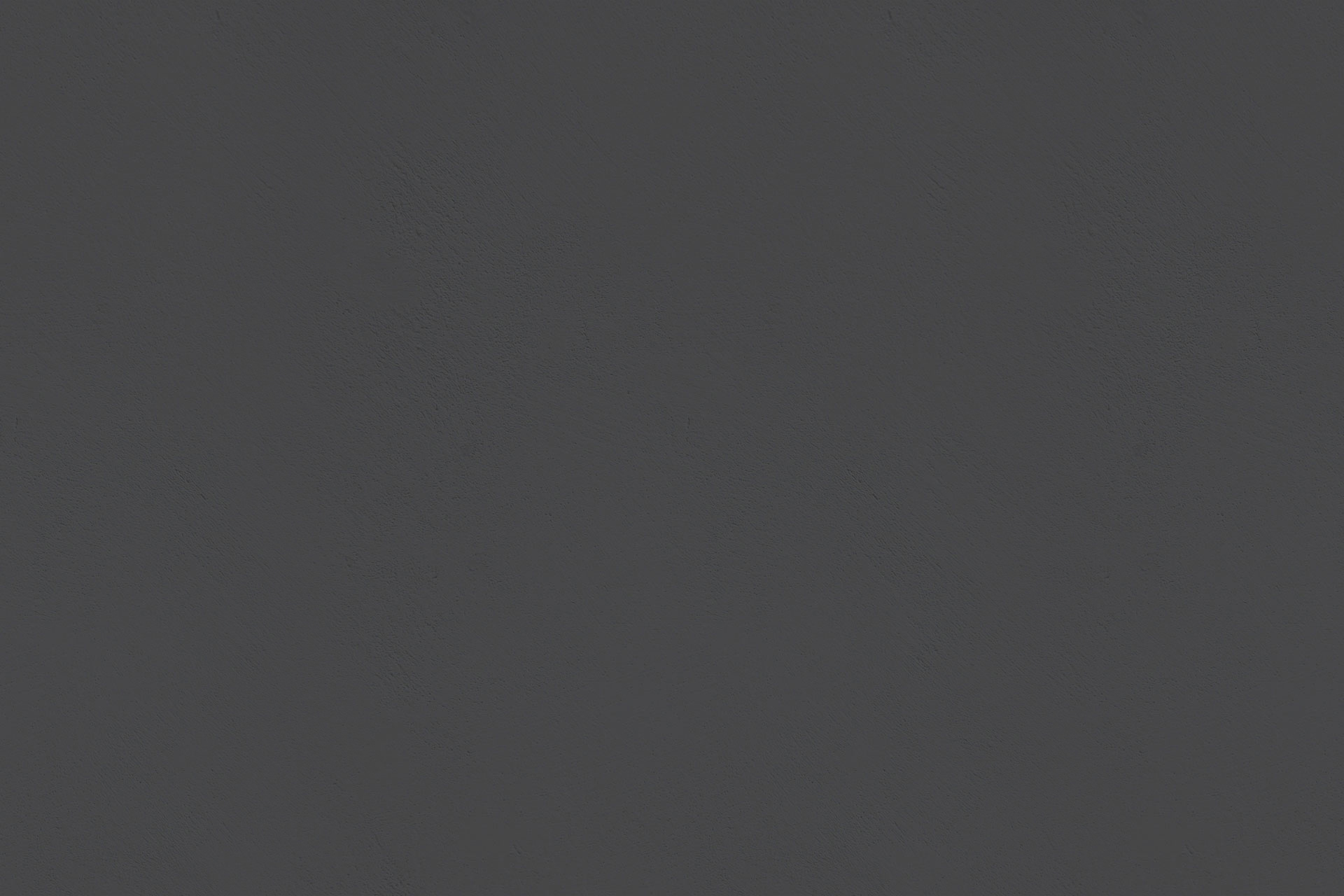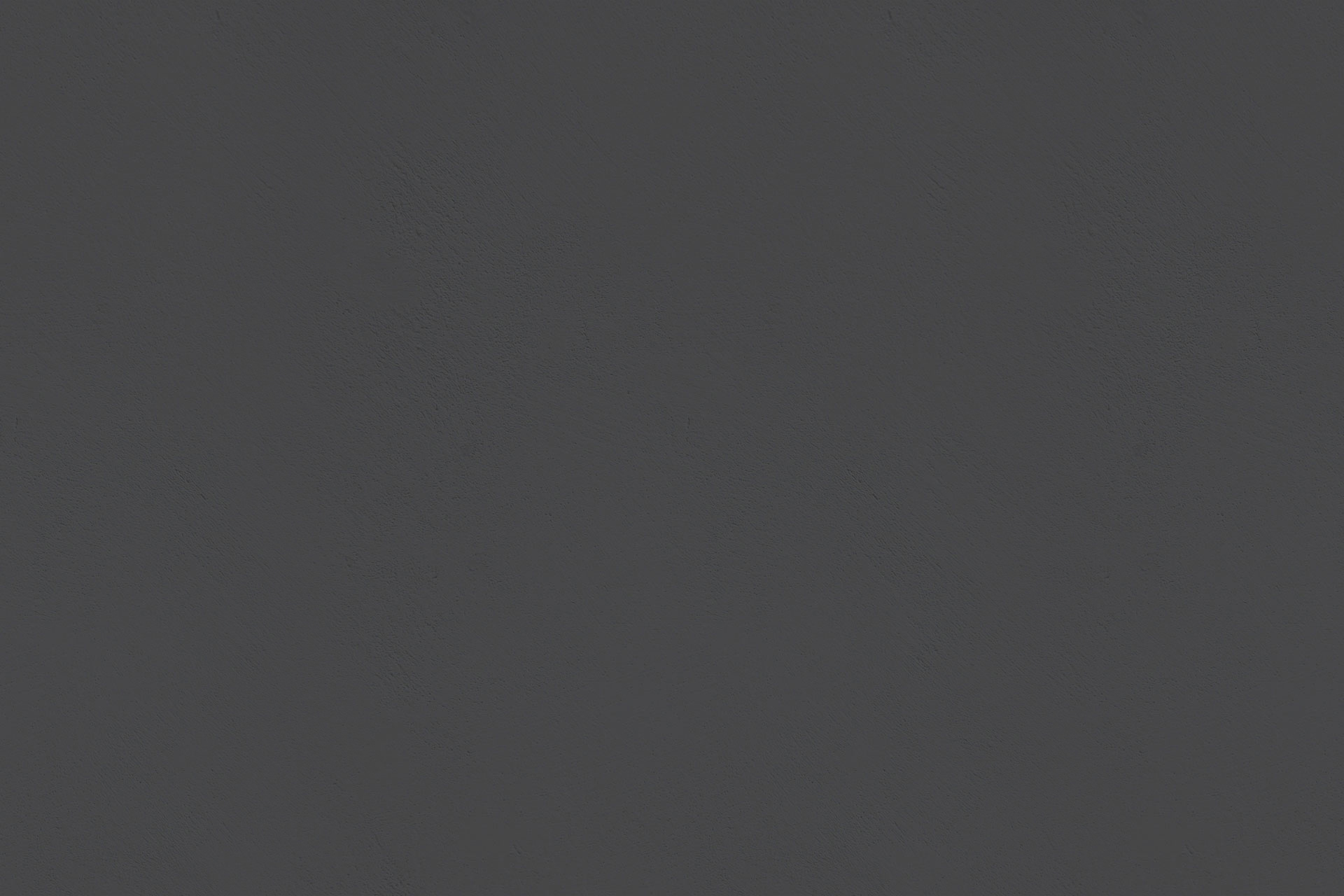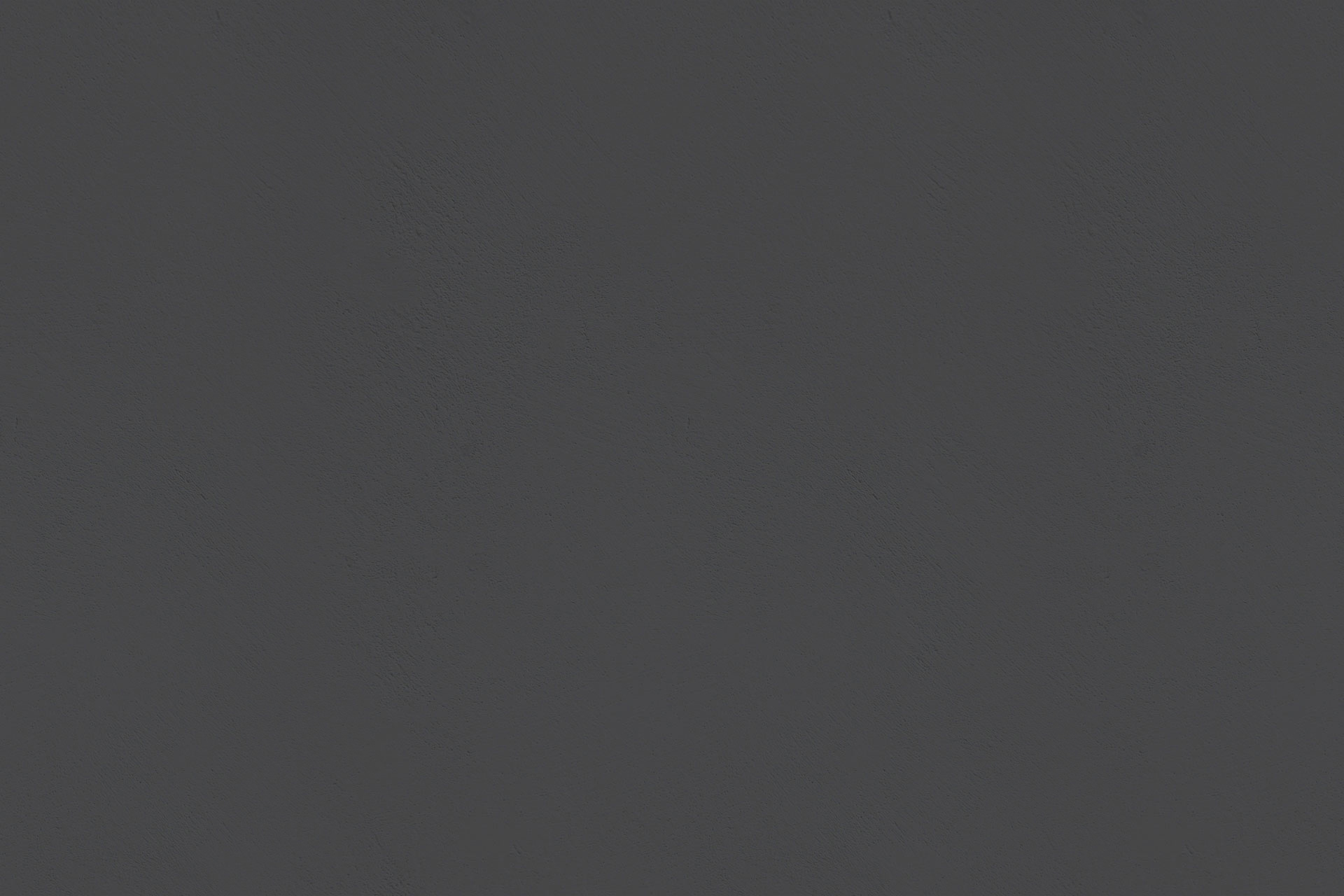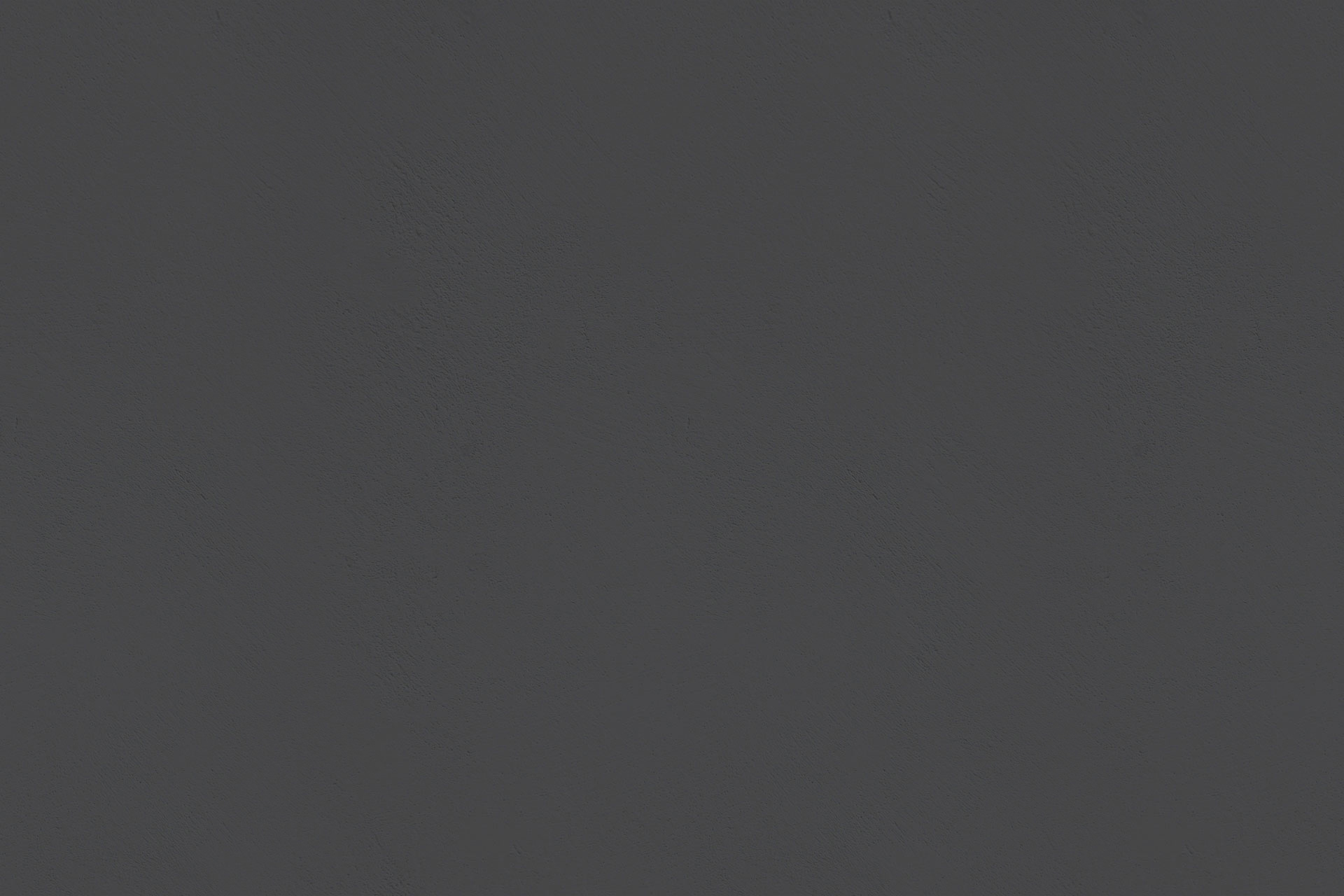 Friedman's Thermador Book
Thermador Booklet for Friedman's Appliances
Our marketing expertise goes beyond digital, and the Thermador Booklet for Friedman's Appliances presented a great opportunity to showcase our passion for print. Offering in-depth insights for homeowners and trade professionals, the 32-page publication allowed us to combine our knack for strategy, copywriting, research, and graphic design with our knowledge of the high-end consumer.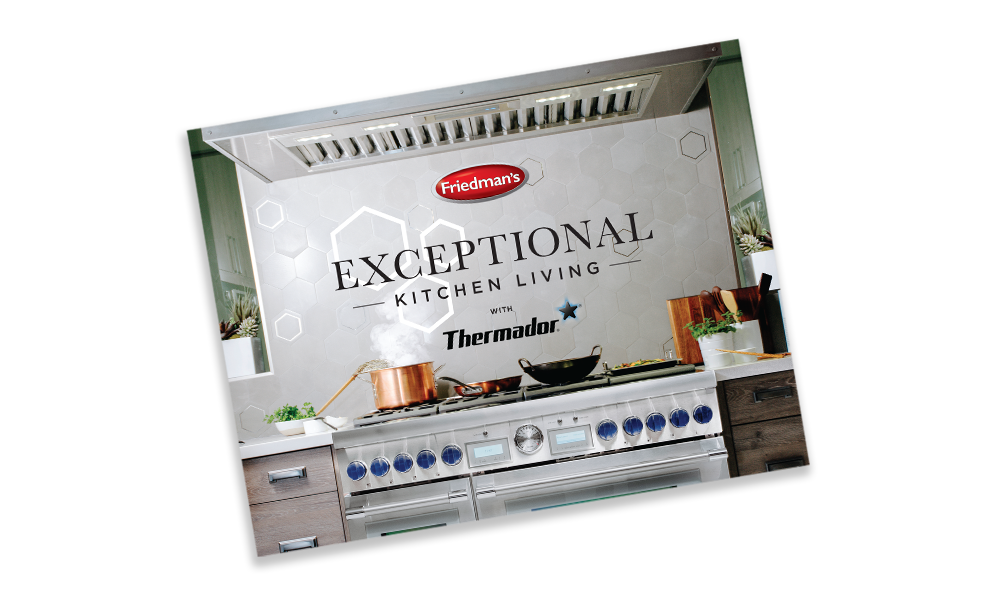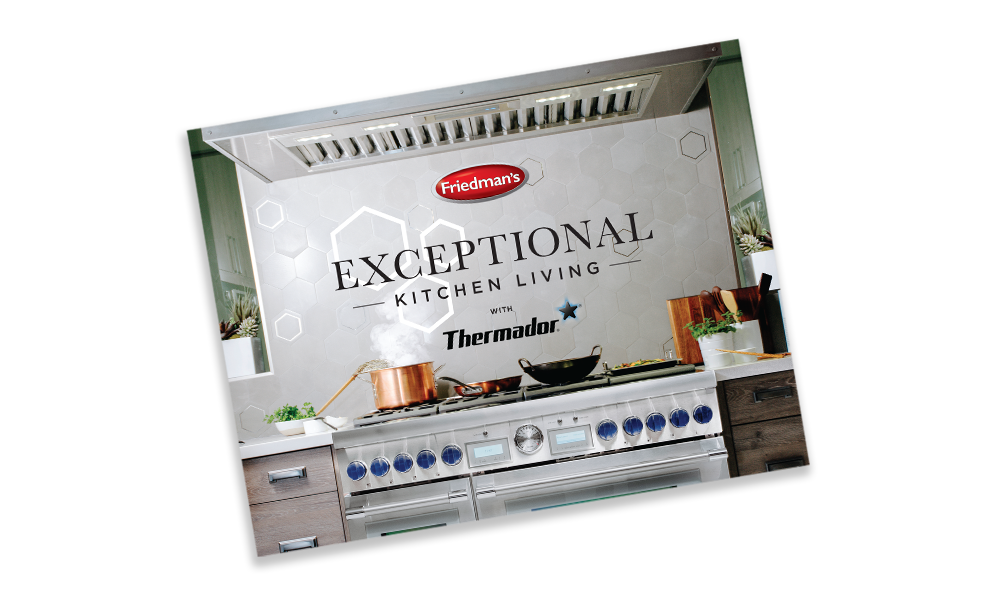 Friedman's Appliances Social Media
Social Media Content For Friedman's Appliances
Our social media content for Friedman's Appliances offers high quality product imagery and educational copy that is designed to inspire homeowners and trade professionals alike. Whether it's Facebook or Instagram, we optimize content for each channel to offer an engaging and consistent experience across all social media platforms.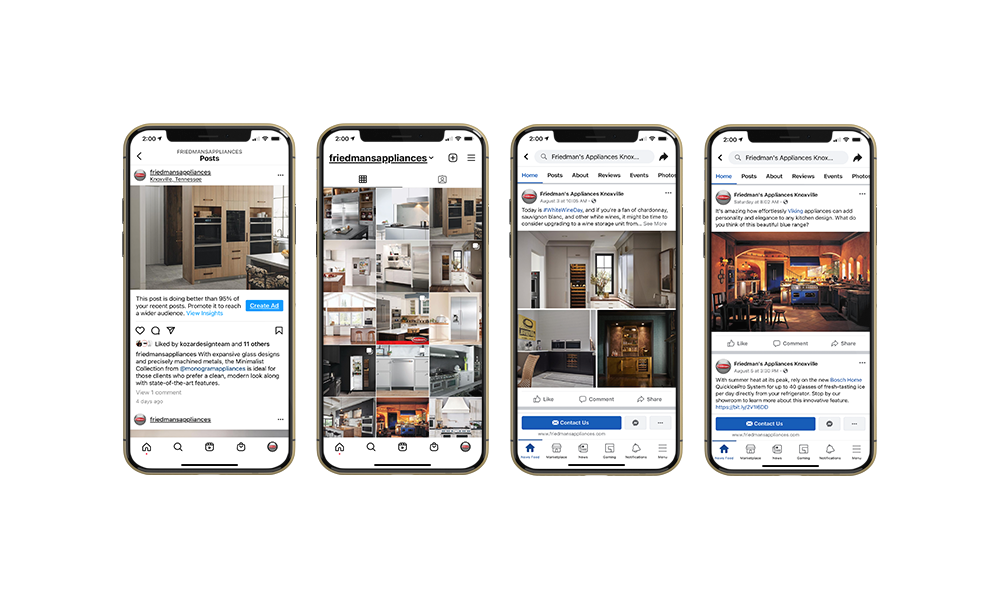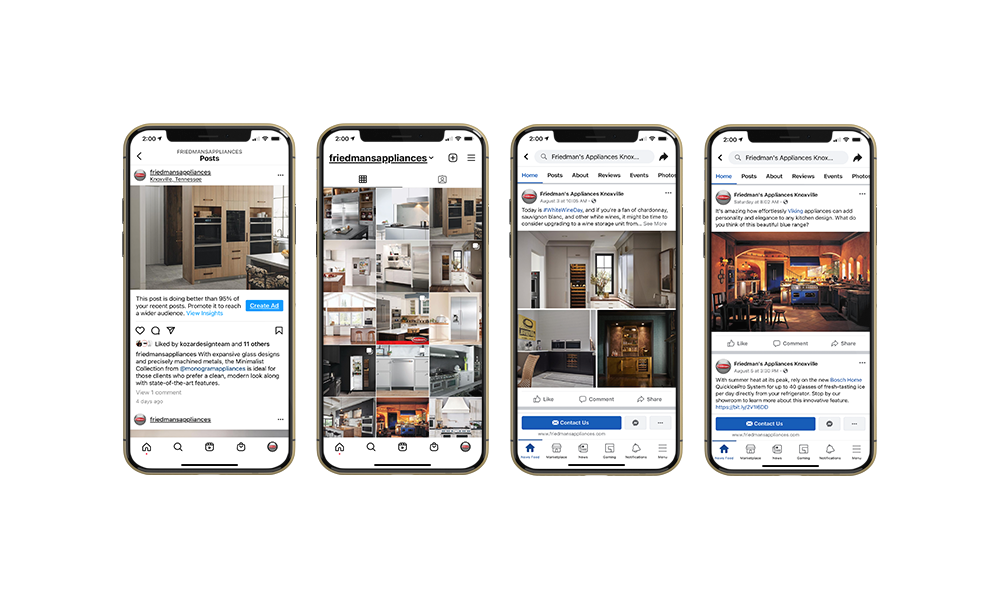 Distinctive Appliances Blog + Email
Blog Articles Featuring Luxury Brands
Distinctive Appliances is a boutique dealer offering a carefully curated selection of luxury appliances. Our writers crafted lifestyle-focused content for blog articles and email newsletters designed to both inspire and educate homeowners.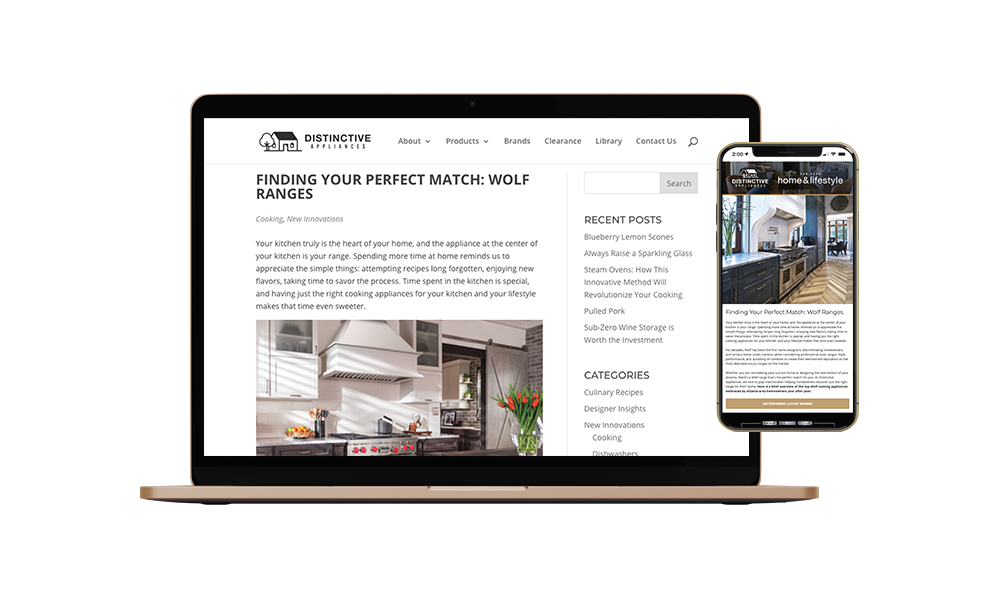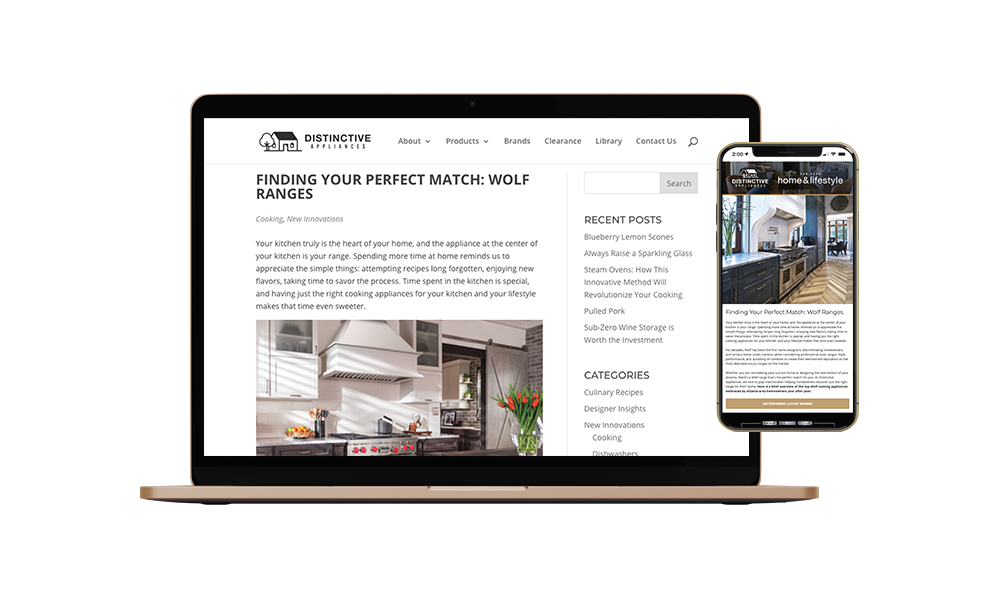 ADU Pro Newsletter
Trade Professional Newsletters For ADU
To better serve the kitchen designers and contractors who make up a significant portion of ADU's audience, we regularly publish articles written by a specialist in kitchen design and lifestyle content. The articles are part of a monthly newsletter designed to help ADU's trade professional audience stay abreast of trends and discover how ADU can help them make their clients' dream kitchens a reality.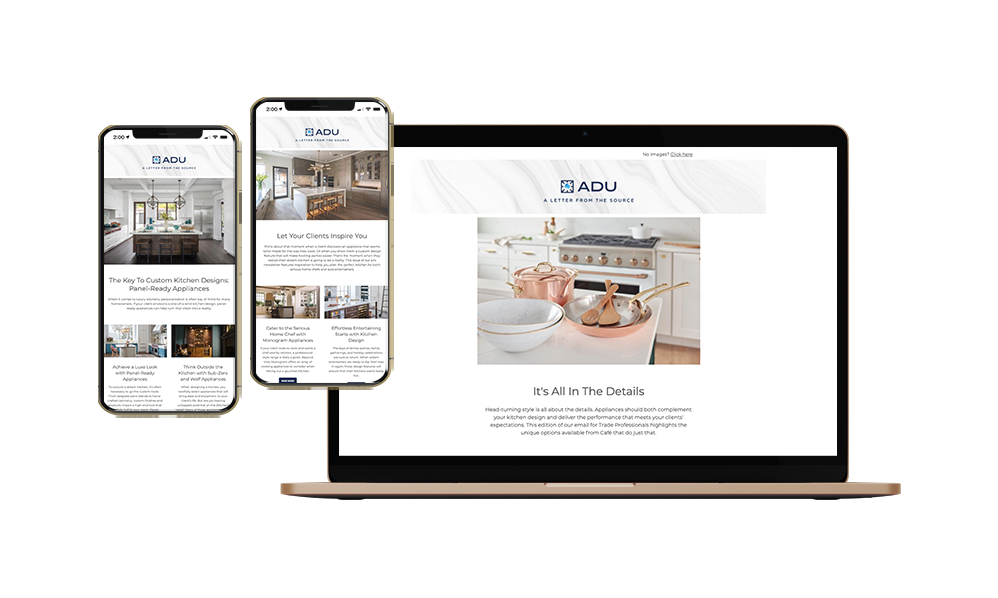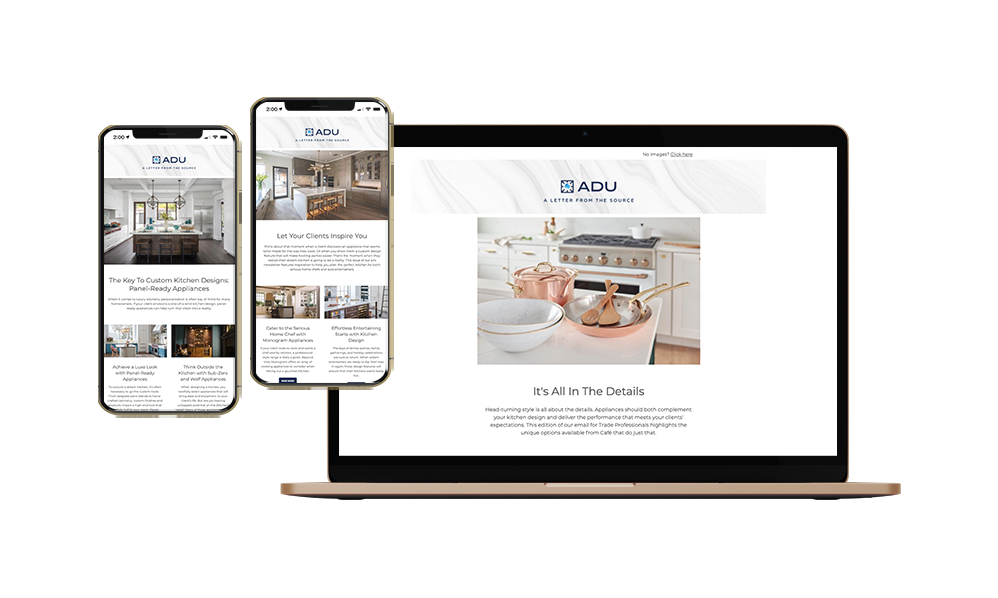 Appliance Gallery DBJ
Print Advertisements for Appliance Gallery's Outdoor Showroom
As the team behind Appliance Gallery's digital and print advertisements, we developed an annual strategy for the local business journal campaign that uses custom ad content to help homeowners invest smartly in their home. When Appliance Gallery added the largest outdoor kitchen showroom in a four-state area, this campaign presented an ideal opportunity to showcase the dealer's outdoor appliance offerings.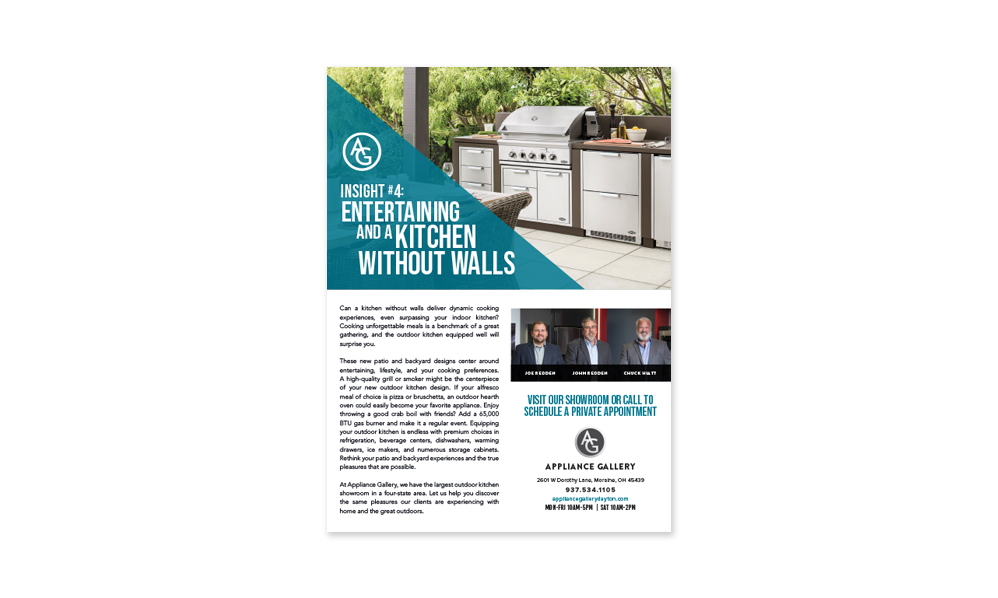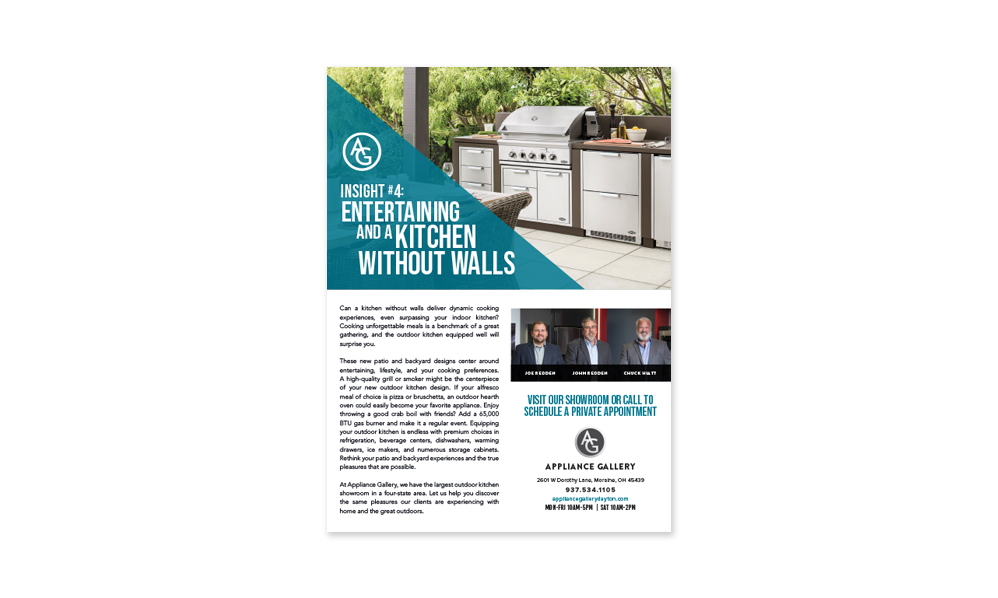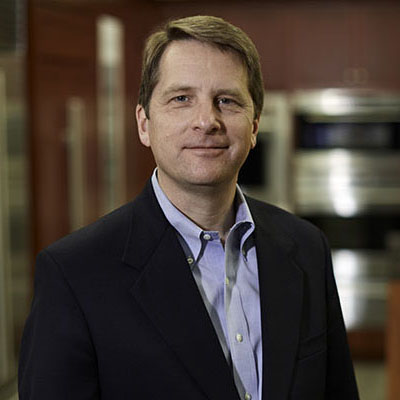 Client Success Stories
Whether it's Facebook, Google Ads, Direct Mail or simply marketing strategy, Riley & You is my team. I give Riley & You my annual marketing budget and each year they create a written plan that totally allocates the budget. It's always well thought out and maximized for impact per dollar spent. And once it's finalized, they execute the plan all while staying in budget. I couldn't have a better arrangement even if I had someone working on this full time. I owe Riley & You a great deal for the work they've done for us.
– Russell Greer, CEO of Friedman's Appliances
Insights for High-End Dealers
Having spent the last 11 years helping premium and luxury appliance dealers grow, we have a lot of experience to share. Our Premium Appliance Newsletter features insights and ideas written just for high-end dealers. Not on our list? You can sign up here.
We're Ready To Get To Work For You.