In a world where things are constantly changing, it is vital that your brand adapt and grow as well. At Riley & You, re-branding is far more than updating your logo. Sometimes in order to keep your brand fresh, you need to re-brand. This client came to Riley & You looking to re-brand after a multi-company merger and plan for future expansion.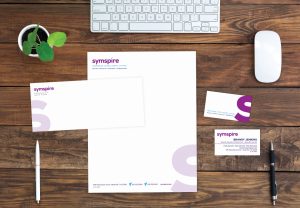 The goal was to create a unique brand (name and look) to reflect the merging of three companies. We were also asked to build a new set of branded assets for the company from logos to stationery, website to email marketing, social media, apparel, and more. Symspire wanted a look and a brand that would set them apart in their industry and allow the company to expand and grow over time.
The new brand needed to focus on what the customer would experience as well as the why and the how of the new company. The focus could not be on the product and services currently offered because that might change with the addition of new services and advancements in technology.
The first part of the re-branding was a new name. The new company originally operated under the name of one company out of the three, which wasn't a long term solution, nor was it consumer friendly. It was a name that didn't evoke emotions or experience. The re-naming process involved team members from all areas of the company researching and brainstorming on their own time. Then we all came together to share and discuss our naming ideas. It was during this discussion that we began looking at prefixes. "Spire" initially came from the word inspire as the focus was on inspiring intelligent living, but "spire" also means the top of a structure.
Symspire wants to be at the top of their field of installing and connecting technology, and the structure reference related back to their function in homes and offices. "Sym-" means "together," which embodies the idea of connecting technology and connecting people within a home or work space. Symspire was not only a word with deep meaning, but it evoked a feeling instead of a thing. It was also a unique word, not currently in existence. This provided the opportunity to build a unique, eye-catching brand around a name no one has ever heard before.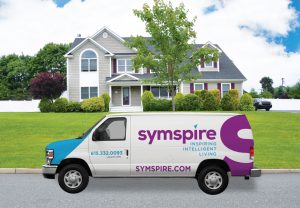 Next we needed a visual design as unique as the name. We wanted an impactful and memorable color and design direction that would appeal to men and women and stand out in an industry where blues, reds, and yellows were predominant. We wanted something that would pop on a yard sign or the side of a truck, the primary marketing for Symspire. The logo process involved many variations each with a unique color palette. Ultimately the team was won over by bold colors paired with a simple design that allowed the word Symspire to be the hero of the brand.
According to Entrepreneur.com, here are five reasons you may need to consider a re-brand:
When you want to shake off an old image.
When you want to tap into a new demographic.
When you outgrow your original mission.
When the market is evolving quickly.
When all you've got is a name.
If it is time for you to re-brand, Riley & You knows that your brand is more than just a name or a logo; it's an identity. Contact us today at 615.834.8085 to let our experts help you get the branding you need to be able to grow.