We have told you why search marketing is effective and taught you how to choose the right keywords to maximize your search-engine marketing campaign. You already know that search marketing, purchasing ad space based on keyword searches, is one of the most effective ways to market your business online. But if that's the case, why do we see so many banner or display ads on the websites we visit? Let's compare the two to see which is a better use of your advertising dollars.
Display or banner advertising is like an online billboard. One of the advantages of display advertising is that it provides greater visibility for a lower cost than search advertising. The cost per thousand impressions (CPM) is usually lower and the visibility on the page is much higher, especially on pages with few advertising slots. This makes display advertising a great tool for branding your company and increasing brand recognition.
However users who view display advertising are doing so while they are busy with another activity on the Internet: playing a game, reading an article, watching a video, etc. They are not actively seeking information about your product or service. Your business is trying to catch their attention, which can be difficult when they are on that website for another purpose. This means that your click-through-rate will be significantly lower with display advertising than with search advertising.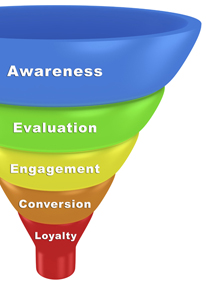 Also those that click on the ad are not as far down in the purchasing funnel as those searching for product and service information, making their likelihood to convert lower as well. This generally decreases the quality of the leads generated from display ads. For these reasons, banner/display advertising is best utilized for creating awareness about a specific product, service or event.
Search marketing on the other hand is much more targeted because users that view your ads are searching for keywords that you have selected based on the product or service you are marketing. These users are much more likely to click your ad because they have a need that your product or service can meet.
If they click your ad, they are much further down in the purchasing funnel because they are actively seeking a product or service. This means that they are more likely to convert and be a higher quality lead when they reach your landing page. Although not as visually appealing, search advertising can still impact brand recognition. Display ads are more effective for brand awareness, even if the user does not click on your ad.
The other great thing about search ads is that they are more measureable. We receive a lot more data about the user, including the keyword that they were searching for when they saw your ad. This data allows us to more effectively optimize the ads and target potential customers.
So how do you know which route to take? It all depends on your goal. If your goal is to build awareness about a new product or service or create recognition for your new brand, display or banner advertising would likely be the best online route for you. However if you want to generate leads, drive foot traffic, or increase sales, search marketing would most likely be the best use of your online advertising budget.
If you want to increase brand awareness and generate high-quality leads, integrate both methods into your campaign. Studies show that strategically designed and targeted banner advertising can not only increase searches for a product or service, but can also have a positive impact on click-through-rate. The brand awareness generated from banner ads can create a conscious or subliminal desire for a product or service. Because they make the brand more familiar to consumers, banner ads also increase the credibility of the company in the search ad.
Even though this combination method can be very effective, it's important to evaluate your budget before taking this route. Combining search advertising with banner ads will inevitably lead to a higher cost per lead overall. If your dollars are limited, you will want to maximize your efforts with search advertising before moving to a banner advertising campaign. With search advertising alone, your cost per lead will almost always be lower and produce higher quality leads.
Need help navigating the tricky waters of online marketing? Let us help you develop an online campaign that's personalized to your needs and integrated with your other marketing efforts.
Shana
Interactive Strategist